My Story
Bob's Journey to Better Health
Here are some pictures along the way.
The Four of Us
1 September 2001

The Three of US
2 August 2002

The Two of Us
1 June 2003
In July of 2000, my wife Katie decided she needed something to motivate her and get herself out and moving. Better health and weight loss were not enough of a motivator. She was talking to a co-worker about the Avon 3Day Breast Cancer Walk. She decided that she was going to walk in the San Francisco walk in July of 2002. So on 1 August 2001, we started to walk. If you want to read about our training, click here.

While looking for training information, for the Avon 3-Day Breast Cancer Walk, she found the American Volkssporting Association (www.ava.org). We purchased our starter kits and put them on the shelf until after training and the walk.

In December of 2001, I went to my doctor for my annual physical. He told me that for the last 10 years my weight and my cholesterol had been going up, and it was time to do something. He told me to cut out rice, pasta, bread and potatoes. He also said to get more exercise. Katie and I had been in training; pre-training really the real ramp up was starting in January. So, we changed our diet and kept on walking. In January 2002, I was home sick one day, I saw Dr. Shapiro on Oprah talking about his book "Picture Perfect Weight Loss 30 Day Plan". We got his book, started to eat better and ramped up training.

We continued to train, and by July 2002, we had walked over 1000 miles. At this point, neither one of use had lost much weights. Between all the Gator Aid we drank, Roast Beef Sandwiches at the Atascadero Hofbrau and all the nuts and dried fruit we were eating while walking, we were putting in as many carbs as we were burning off.

After the Avon walk, we slowed down a bit for a deserved rest. We continued to eat right and follow Dr. Shapiro's plan. I returned in January of 2003 for my Annual check up. I had lost 40 pounds, and my cholesterol was down. My doctor was very pleased. Katie had her annual, and she too had lost about 40 pounds. We were both doing great.

For the next couple of months everything was static. We were plateaued. Then in the end of March, we joined Weight Watchers. Katie had joined Weight Watchers when she was in High School and became a Life Time Member. She decided to rejoin and use Weight Watchers to get off the plateau. Since I do all the cooking, I joined to support her. I had to know the system if I was going to cook by it.

I had always envisioned Weight Watchers as a group of skinny women sitting around complaining about how fat they were, or a bunch of fat women complaining about being fat. Instead, I found a group of women and men (there are three or four of us) all trying to get control of their eating habits and get in better shape. A number of the members are at goal weight and continue the meetings to stay at goal. Others are working hard to get in better shape. The people I have met at Weight Watchers are fantastic. They share ideas and stories, both good and bad.

To my amazement, I started to drop weight in the first week. By the third week I was hooked. For the first time in 20 years, I believed I could get my weight below 200 pounds. I was off and running.

We continued to eat Dr. Shapiro's plan, but added Weight Watchers portion control to it. I can not say enough about what Weight Watchers has taught me about portion control and paying attention to what I am eating. It is a great system and a great support group.

To date (24 June 2003) Katie and I have each lost over 70 pounds and counting.
23 July 2003 update
I hit goal weight today; I am under 184 pounds. This is truly amazing to me. My junior and senior years in High School I weighed 175 pounds during swim season. After the season was over in the spring, I would go up to 185 and stay there until swim season started the next year. I now weigh less then when I graduated from High School!
Two years ago, I was about 265 pounds. I wore pants with a 44 inch waist and XXL shirts. I am now in 34 inch pants and Medium shirts. I have dropped 10 inches off my waist. I feel GREAT. I no longer carry a small child around with me everywhere I go. If you want to know how it feels, next time you go to the grocery store, make the Picnic supplies your first stop. Pick up four 20 pounds bags if charcoal and carry them around the store while you shop. Then go up and down some stairs. Take those four bags everywhere you go. Never put them down, that is what I was doing and did not even know it.
I FEEL GREAT!.
Bob
8 December 2003
It has been 4 months and I am still in range. Last weekend, I hit my "high" mark at the WW weekly meeting; I was 185. This is not bad considering I just came out of Thanksgiving and a week of junk food at work. I am cutting back my daily food in take to balance back out. I want to drop back down to 180; that is my target, 180 plus or minus 4 pounds, I am really 1 pound over the top end of my self imposed range. All that means is I have to pay better attention to what I am eating. It is not a full habit yet, and I still have to work on it.
Katie is still doing well and losing. She is at minus 101+ pounds now, 61 with Weight Watchers and 40 plus before. She is looking and feeling great.
Here are some pictures I took of me in my OLD suit.
1 January 2004
We made it through the holiday feasting with out any damage! I was a little worried there for a while. I was eating too much junk at work; not near as much as I have in past years. But, I was still eating way more junk then I wanted to. I made it though Thanksgiving with flying colors. Katie and I were home alone for Thanksgiving, this made it very easy. We planned a Thanksgiving meal that was fabulous and still inside our eating plan.
Then came the first week of December and all the Christmas junk food started to show up at work. I did not do a good job of controlling my self and it showed on the scale at the Saturday morning weigh in. I gained 3 pounds in one week! The next couple of weeks were better, not perfect but much better. That first week put me into a small tail spin, but I recovered. Due to all the stuff we had going on, we did not make it to another weigh in until 2 January . The week between Christmas and New Years is what saved me. We were in Bend Or. visiting Katie's mom. I was able to stay in plan. At the 2 January weigh in, I was back down the 3 pounds I had put on in the first week.
Katie on the other hand gets straight A's for December. She stayed in plan the entire month and kept up her steady pound a week drop. She is now down 64 pounds with Weight Watchers and a total of 104 pounds (that we know of), she is down to 161 and counting. She wants to drop 8 more pounds, that should be in about 8 or 10 weeks.
Lets talk clothes. We needed to go shopping in December because our clothes were getting way to baggy again. I was not too bad, but it was time to toss all the old XL shirts I had and fill the closet back out a little with more medium. I still have a couple of large shirts left in the closet. This spring we should be purging the larges and replacing them with mediums. What a great feeling!
As for Katie, she was in real need of new clothes, she is in that major shrink stage. I have told you about my changes here are some stats on Katie (yes, she told me I could put this in here). She has gone from a 44DD to a 36D, from a size 24/26 to a size 12! We were out looking for a new fleece vest and jacket for her, she saw a shelf with a great price and tried one on. To her surprise, she was shopping in the children's section and had put on a child's size 14/16 fleece vest, and it fit GREAT! That vest is now starting to get big on her! She is now wearing medium pants and small shirts! After she makes goal, I will put in some full body before and after pictures.
27 January 2004
We continue to eat inside the WW points system, and we continue to lose and maintain. Katie's clothes are starting to get too big again! She is so close to goal now, only 3 more pounds to go. After she makes goal, we will need to go buy her new clothes again.
We could not wait any more. On January 18th we took a Now picture. I then dug up a September 2001 picture to make a "Then and Now" page, take a look. We were so amazed that we printed the pictures and have them posted on the refrigerator and on our walls at work. I look up and see us then and now everyday. After Katie is at goal, we will put on walking clothes and do a new Then and Now page.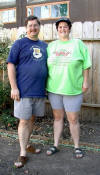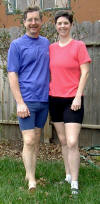 September 2001 to February 2004
(Updated the now picture 2/2004)
This last weekend on our way home from LA we stopped at Lane Bryant. In the past this was a ritual so Katie could shop. The selection for large women in SLO is poor at best. Anyway, this stop was to take a picture of Katie in a size 24 pair of pants. We do not have to go to Santa Barbara or San Francisco to shop for clothes any more; we can find our size in the stores in SLO.
7 February 2004
Katie made goal today! She is now 153 pounds, down 112 from January 2002! Time to celebrate, go get new drivers licenses with new pictures and new weights on them. We need to take a new picture with us in our walking clothes for the Then and Now page. New passport photos. Time to replace our wedding rings, we have both been wearing them on our middle fingers for months, they are too big and fall off our ring fingers.
I got my results from my annual physical here is a recap of my cholesterol.
| | | | | | |
| --- | --- | --- | --- | --- | --- |
| Date | Weight | Cholesterol | LDL | HDL | Triglycerides |
| January 2002 | 265 | 242 | 144 | 38 | |
| September 2002 | | 208 | 139 | 36 | 165 |
| January 2003 | 220 | 182 | 120 | 40 | 111 |
| January 2004 | 182 | 145 | 81 | 51 | 70 |
I feel Good.
1 July 2004
It has been a number of months since I have written here. In March we made the final decision to buy a house and started looking. We found a place, made an offer, and entered escrow. As many of you know this is a very emotional and stressful process. To add to that my mother in-law was also in escrow in Oregon. When she closed I took two week vacation to help her move into her new house. I returned home to close escrow and take a long weekend vacation to Las Vegas for a family gathering. Then we moved into our new house. I was then sick for two weeks. It has been a long hard haul the last couple months.
I have gained a little weight, I am at 186 and have been here for a few weeks now. This is three pounds over the Weight Watchers top end for me. I have been trying to get back down but it has been hard. Last week our routine returned to normal. I can not wait to get on the scales in the morning at the WW meeting to see how I have done. I got out and walked every morning this week. When we started we would push to walk at three miles an hour, this week I pushed on Monday and Tuesday and did three miles each day at 4.5 MPH. Wednesday I took an easy day, 4.0 MPH for two miles. Thursday and Friday I pushed a little and did 3 and 3.4 miles at 4.5 MPH. I actually went out slow on Friday, 4.0 MPH and then kicked it up on the way back with some running to finish with a 4.5 MPH average. I NEVER could have done this at 265 pounds.
Loosing weight was easy, keeping it constant is much harder. Maintenance is lots and lots of work. You are at goal and you say to your self, sure have a little extra today. Then you do the same thing two days later and the next thing you know it, it is showing on the scales at the next WW weigh in.
I still feel good and look good.
Bob
June 2010
It has been a long while since I have written here. So much has happened in the last 6 years. I will try to sum up what has happened.
In September of 2004 Katie was diagnosed with Irritable Bowel Syndrome (IBS). To sum up IBS, her digestive system is very sensitive. The entire time we were doing Weight Watchers she had a stomach ache. We now know it was her IBS. She needs to eat low fiber foods and avoid too many vegetables. What Weight Watchers was say is good for you, is bad for her. She should eat white rice, not brown rice; white bread, not wheat bread.
In late September of 2004 we went off the program. She needed to eat what she wanted and when she wanted. She needed to eat what made her feel good. She needed to figure out what food were "good" for her and what foods were not.
In the last 6 years our weight has gone back up. I am back at 265.
In January of 2009 we purchased a treadmill. I stared to walk 40 minutes every morning before work. I am walking at 3.5 to 3.8 MPH. I walked for over a year. I felt better and have more energy, but I did not loose any weight. Portion control and accountability for what I was eating was missing.
June 2010, we have just re-joined Weight Watchers. We are back on program. We now know what foods Katie can and cannot eat. We have been to our second meeting and we are both loosing weight. Since Weight Watchers dose not tell you what to eat. It gives you tools on how to portion control and a method to measure how much food you eat in a day. We can eat the foods we want and Katie needs, we just need to use portion control.
What I have found the most interesting, I am packing the same thing into my lunch as I was three weeks ago. I am just packing smaller portions. We have been eating the correct foods, just too much. We now have desert most every evening after dinner. We have controlled portions.
Bob
September 2010
Things are going well. I am down a little over 12 pounds, for an average of 0.8 pounds per week. This is a good rate, I want to take it slow and easy this time. Katie is having a harder time, not with staying on program, it is getting up "early" on Saturday mornings to go to the meetings. Weekend sleep in is very important to her, it is her catch up time.
I have some ups and downs in the last three months. Good weeks and bad weeks, the real answer is in the average. I am not trying to be perfect every week, I am looking at the big picture this time, not the weekly weigh in. I pay attention to what I am eating and to portions all the time, but I do not track points every week. I do not loose as much or go up a little on the weeks I do not track, but over all I am doing well. I am looking at how I will live the rest of my life. I do not think I will track every week, but I pay attention to what I eat and portion size.
My cloths are starting to get looser, I am starting to walk faster on the treadmill in the mornings ( I now average about 3.7 MPH). Over all I am feeling better, healthier. I actually get hungry. Just now sitting here I realize that in the last 6 years I have been eating so much that I was never really getting hungry. I would eat when it was "time" to eat, not because I was hungry. I do not let myself get overly hungry, between meals when I am hungry I have a snack, fruit and cheese stick, pretzels, melon, carrot and celery, something for 1 to 3 points. This holds me until the meal. It also helps to break the hunger before I eat so I do not over eat at the meal.
Bob
31 October 2010
I am down 16 pounds. It has been about 22 weeks, that is 0.7 pounds per week. I like this speed, slow and steady. The trip to this weight was a slow long journey, I did not gain this weight overnight. It took 2 or three years to get up here and it will take time to go back down. I did not gain everyday or every week on the way up, I will not loose every day or every week on the way down. I keep looking at the big picture.
Sixteen pounds, what is 16 pounds. That is the same as 2 gallons of water. So next time you are in the store, stop in the water isle and pickup one gallon of water in each hand. That is what I have lost in the last 22 weeks. I carry that much less weight with me every step of everyday.
Halloween can be a hard time, not at home tonight, but next week at work. All the extra candy will be on desks all over work. I need to practice control next week. For me today marks the start of the hard holiday season. This is the time of the year that everyone wants to thank you with food. We have candy at Halloween, then the home made cookies and goodies start to show up at work. Then the actual holidays and all the food.
Control, moderation and portion size are the key. Do not avoid the food, that leads to a binge. Have a cookie, not five. Have a very small piece of pumpkin pie. Have a small taste of everything. Take smaller portions and then go back for a small portion of only the best of the best.
Bob
7 May 2011
Things are going slow but good. I am now down 23 pounds.
Bob
Return to Bob's Weight Loss Tips Home Page
Page Last Updated 05/07/2011